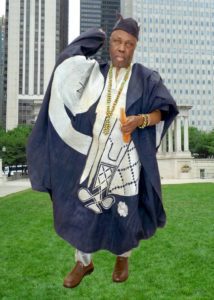 Professor Wándé Abímbọ́lá
Professor Wande Abimbola is President and Founder of Ifa Heritage Institute. He served as Vice Chancellor (President) of the University of Ife (now Obafemi Awolowo University) from 1982-1989. From 1992-1993 he was Senate Majority Leader of the Federal Republic of Nigeria. From 2003-2005, Professor Abimbola served as Special Adviser on Cultural Affairs and Traditional Matters to the President of Nigeria. Wande Abimbola was installed as Awise Awo ni Agbaye (Spokesperson of Ifa in the Whole World) in 1981 by the Ooni of Ife on the recommendation of a conclave of West African Babalawos.
The Awise was born in Oyo, Nigeria. His late father, Abimbola Iroko, a veteran of World War I and a renowned hunter whose brave exploits are celebrated by Ijala artists, was the Asipade (Leader of the Ogun Community) until his death in 1971. His late mother, Sangodayo Ifagbemisola Awele, a high priest of Sango, lived mentally and physically well until she departed the earth in 1987 at the age of 109.
 The Awise Agbaye taught in three Nigerian universities, namely the University of Ibadan from 1963-65, University of Lagos from 1966-72, and the University of Ife from 1972-91. He has also taught at many universities in the USA, including Indiana University, Amherst College, Harvard University, Boston University, Colgate University, and the University of Louisville.
Wande Abimbola received his first degree in History from the University College, Ibadan in 1963, when that was a college of London University. He received his Master's Degree in Linguistics from Northwestern University, Illinois, USA in 1966, and his Ph.D. in Yoruba Literature in 1970 from the University of Lagos. He became a full Professor of African Languages and Literatures at the University of Ife in 1976. The Awise's academic background is very much rooted in oral tradition. He was an apprentice in Ifa chanting and rituals before he began formal schooling at the age of 12.